Emaximm (Electronically Maximized Immigration) is one of the powerful resources available in the US Immigration software marketplace today that aid corporations and US Immigration Attorneys in effectively and intuitively managing their clientele, staff and overall business needs.
Emaximm is a web based application specifically tailored for controlling and tracking all the activities for your enterprise, division or practice using a single web address.

Emaximm - Our web based model is a complete, secure and flexible software solution for all immigration corporations and individual attorneys processing immigration...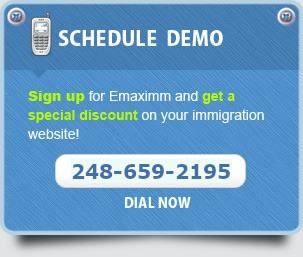 Emaximm does it all
" After having practiced immigration law for over 12 years and feeling frustrated with its management, I finally found the right solution to running an immigration practice. We had tried a handful of immigration related software packages, however, we found that we alway had to use 3rd party software to run other areas like calendaring, billing, word processing and reports. Emaximm does it all. And the beauty is that you don't have to have an engineering degree to operate it. It's great for first time users and staff absolutely love it. The formatting is very clean and funtional. The time out feature and the security required log in screen gives us the peace of mind needed when it comes to online security. And finally, the technical support team is very responsive with a quick response time.
Emaximm gave me the spark I needed to once again enjoy the practice of immigration law. "
Attorney - Arizona

Emaximm has really taken our case management to an all new level
"As a small non-profit organization that serves our local immigrant and refugee population, we searched for years to find a case management software program that was affordable and meets our unique needs. After multiple discussions with the Emaximm software designers and managers, we decided to give them a try. The technicians and service personnel at Emaximm have worked extensively with us to tailor the program to fit our specific needs. The Emaximm crew has provided an outstanding level of customer support and is always readily accessible when we need to ask questions or request changes. We have been rather demanding with our requests, and they have consistently responded with extreme professionalism and courteousness. After two months of use, it is immediately clear that the software is improving our efficiency, ability to track our clients' progress, and the generation of detailed reports. The software has also centralized our database and filing system. Emaximm has really taken our case management to an all new level which is a win-win for our staff, clients and funders."
Hilary Greene